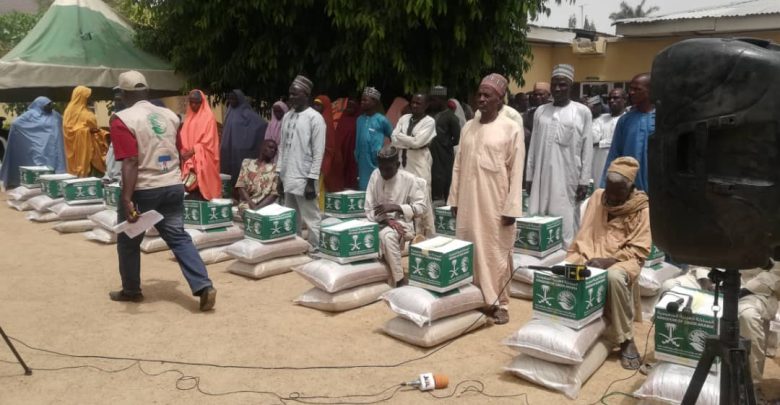 Deputy Counsel General, Saudi Embassy Kano, Alhaji Nawaf Muhammad, has confirmed the King Salman Humanitarian and Relief Centre (KSrelief) has provided 8,050 food baskets for distribution to Kano, Yobe and Borno states.
He disclosed this while flagging off distribution of palliatives to Internally Displaced Persons (IDPs) in Kano, yesterday.
He said the centre had been assisting the needy and those profiled by the National Emergency Management Agency (NEMA) and Kano State Emergency Management Agency (NEMA).
According to him, the organisation is committed to provision of humanitarian services to people impacted by natural and human disasters, especially in Kano, Yobe and Borno states.
Speaking at the event, NEMA Director General, Mustapha Habib Ahmed, reaffirmed that KSrelief had donated assorted foodstuffs to the agency for onward distribution to 500 displaced persons and people impacted by disasters.
Represented by the Director, Planning, Research and Forecasting, Hajiya Fatima Kasim, the DG recollected that KSrelief's collaboration with NEMA dated back to 2018 to 2021, when it donated relief materials in form of food baskets to IDPs in Borno, Yobe and Zamfara states.
"The 500 food baskets donated to Kano State would go a long way in contributing to the recovery process of the beneficiaries that have been impacted by disasters," he said.
Earlier in his welcome address, Executive Secretary, Kano State Emergency Management Agency (SEMA), Dr. Saleh Aliyu Jili, commended the donor for the kind gesture.
He said 500 vulnerable households from Bunkure communities got succour, adding that the donation was first of its kind in the state.