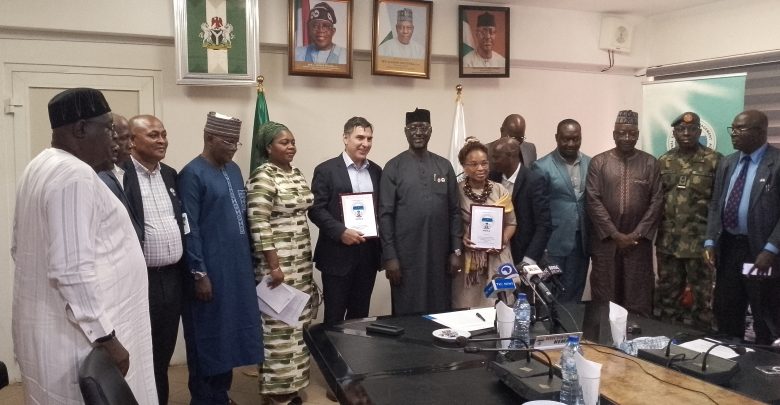 Protocol….
I am delighted to welcome you to National Emergency Management Agency for this courtesy visit to enhance our existing cooperation and collaboration in the aspect food and nutrition in order to assist vulnerable ones in Nigeria and Nigerian leaving in Cameroon affected by man-made disaster.
The collaboration dated back to 2009 when NEMA and WFP signed a memorandum of understanding for one year (September 2009 –December 2010) which centered on Rapid Food Security Assessments Training, Training in humanitarian and Logistics management in Emergency situations, Emergency preparedness workshop, Telecommunications Assessment mission and Emergency preparedness Federal and state capacity assessment mission. As a result of success from the one year MOU NEMA and WFP entered a three year MOU from 2011 -2014 on Emergency Needs Assessment, Data processing and GIS, Emergency Preparedness and response, Disaster Risks Reduction, logistics, Emergency Telecommunication and Post disaster livelihood/Early recovery.
WFP was also part of the tripartite meetings that was held in Marwa Far North Eastern Region from 2017 to 2022 to assist Nigerian refugees from North Eastern states that were camped in Minawao IDPs camp. And they contributed meaningfully in the feeding of the IDPs and other valuables assistance. Since last year WFP Nigeria have been training some NEMA and Ministry of Humanitarian affairs staff on shock response including cash policy transfer during emergencies.
Presently NEMA is intervening in Bakinjaw in the Southwest region of Cameroon where Nigerians are taking refuge.
Let me emphasises the commitment of NEMA in responding to disasters both within and outside Nigeria. The agency is willing to create active channel of communication and promote cooperation with your organisation in order to enhance assistance during humanitarian emergencies especially in the area of food and nutrition.
Distinguished ladies and gentlemen NEMA is doing a lot in respect to food security during emergencies including the ongoing Special National Emergency livelihood Emergency Intervention (SNELEI) project which is meant to assist farmers who lost their farm lands and domestic animals during the 2022 flood. About 578,211 household of farmers will benefit from the intervention.
I want to thank and appreciate the Country Directors of both Nigeria and Cameroon and their teams for having time to visit NEMA because of your support and commitment toward effective and efficient disaster management in Nigerian and neighboring countries. Thank you and God bless.