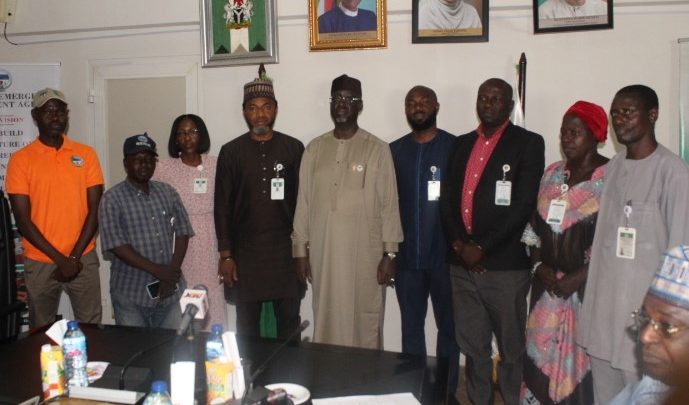 The joint staff union in National Emergency Management Agency (NEMA) today honoured the Director General NEMA Mustapha Ahmed Habib for his outstanding performance since his appointment as chief executive officer of the Agency about two years now.
The joint union comprising of the Association of Senior Civil Servants of Nigeria (ASCSN) and the Nigeria Civil Service Union (NCSU) at a brief occasion in Abuja presented an award of excellence to the DG NEMA Mustapha Habib Ahmed.
Speaking on behalf of the joint union, Chairman of ASCSN NEMA Unit, Comrade Ali Abdulkareem said NEMA staff were appreciative of the Director General for turning around the Agency that has become more efficient in terms of response to disasters and improved staff welfare. These, he said have motivated the workers to have become more committed to duties and willing to do more in achieving the mandates of the Agency.
Responding, Director General NEMA Mustapha Habib Ahmed appreciated the unions for the recognition and dedicated same to all NEMA staff.
He said whatever achievements recorded were from collective supports and cooperation of the staff. Therefore, he urged them to put in more efforts to meet the expectations of Nigerians.
Earlier in a remark, the Director Human Resources NEMA, Alhaji Musa Zakari said the gesture by the staff unions to the Director General NEMA was well deserving he had reinvigorated the Agency by further acquiring necessary Equipment and improving emergency response time.
Abuja
21st March 2023