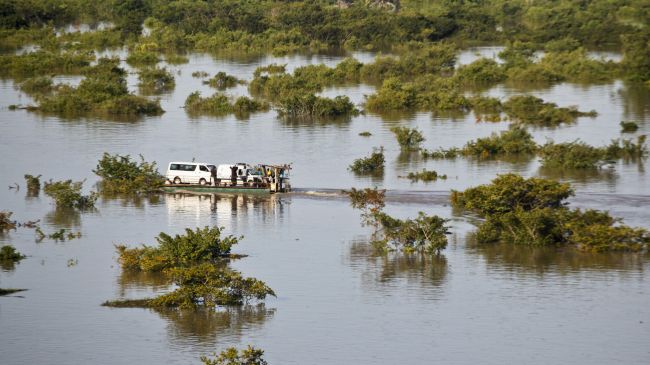 The National Emergency Management Agency (NEMA) yesterday said it had commenced the analysis of the 2014 seasonal rainfall predictions released by the Nigerian Meteorological Agency (NIMET) to determine its implications for disaster management.
The Director General of NEMA, Alhaji Mohammed Sani Sidi, who explained this in Abuja, said the analysis was being carried out along with the critical stakeholders to identify the areas in the forecasts with dire implications of certain risks for necessary actions to mitigate disasters.
He said: "After each NIMET presentations, NEMA regularly organise meetings of experts and stakeholders in disaster management to critically analyse the seasonal rainfall predictions and determine the disaster management implications of the report."
According to the 2014 seasonal rainfall predictions by NIMET, there would be above normal rainfall in Sokoto, Yola, Shaki and Abeokuta, while areas vulnerable to dry spells in 2014 are Maiduguri, Potiskum, Yelwa, Bida, Minna, Lafia, Ibi and Makurdi
The southernmost areas would be characterised with more violent thunderstorms during outset and cessation period of the rain.
The Director General of NEMA, who spoke through the Director of Administration, Dr. Zanna Muhammad, said the usual analysis of the annual predictions had been very useful and greatly improved on the "early warning and early action mechanism" in management of disaster situations of the past years.
A statement by NEMA's Press Officer, Manzo Ezekiel, said the agency considered the early warning measures very important in view of serious environmental challenges posed by climate change.
"The use of weather forecast for early warning and early action is no longer an option but a compelling necessity in the face of the increasing environmental challenges from climate change and associated extreme events.
"It is the intention of NEMA that we digest, evaluate and monitor the seasonal rainfall predictions together towards reducing our nation's vulnerability, enhance our communal resilience and ensure the sustainable development of our dear country," he added.
Institutions and agencies that participated in the study workshop were the representatives of the Federal Ministries of Water Resources, Health and Aviation; NIMET, Nigerian Hydrological Services Agency (NIHSA), civil defence, academia, United Nations agencies and non-governmental organisations.