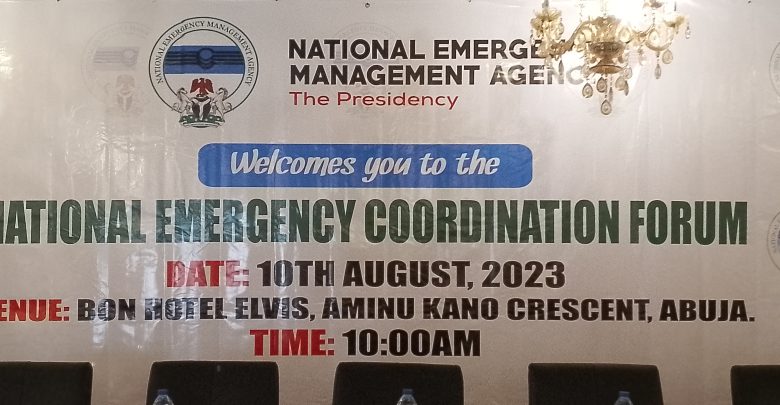 Protocols…….

Distinguished Ladies and Gentlemen, it gives me great joy to welcome you to thisNational EmergencyCoordination Forum (ECF) meeting.
Coordination is a vital component of disaster management which needs to be given adequate attention. In line with NEMA's mandate of coordinating emergency preparedness, mitigation and response activities across the country, the Agency has dimmed it fit to resuscitate the ECF.This is to foster partnership, collaboration and cooperation among relevant stakeholders in emergency management in the country. The platform is apt in view of the various emergencies we are currently being faced with, in Nigeria. The insurgency in the North East, the banditry challenge in the North West, the communal conflicts in North-Central and the flood disaster across the country are points of reference.
You will recall that the 2022 flood disaster claimed 665 lives, displaced2,437,411 persons and affected 4,476,867 persons.
We have already started experiencing flood in some parts of the country this year. This calls for concerted effort so as to address it and many other disasters.
The ECF is therefore an avenue for stakeholders to come together to discuss humanitarian challenges being faced by the citizens as a result of these disasters/emergencies and to proffer ways of mitigating their impacts on citizens.
Distinguished ladies and gentlemen, as part of efforts by the Agency to prepare for and mitigate possible flood disaster this year, various steps have been taken including the production and dissemination of Climate – Related Disaster Preparedness and Mitigation Strategies based on the 2023 Seasonal Climate Prediction (SCP) released by NiMet and the Annual Flood Outlook (AFO) by NIHSA; production of flood risk maps; writing letters to State Governments whose states may likely be affected by the impending climate-related disaster in 2023 based on NiMet's 2023 SCP and NIHSA's 2023 AFO on the need to take proactive steps; de-escalation of the Early Warning messages to States; TV and radio appearances; TV and radio jingles and issuing press releases, among others.
In the event of occurrence of flood or other disasters, NEMA will continue to work with other government partners to provide succour including food and non food items to affected people in the IDP camps and the host communities while building their resilience through livelihood supports, especially with the distribution of agricultural inputs and other livelihood items.
Please permit me to appreciate the complementary effort and support of the United Nations System in Nigeria and International Organizations led by my good friend the UN Resident and Humanitarian Coordinator, in responding to the needs of affected people across the country especially in the North Eastern part of Nigeria.
I wish to reassure you of our resolve to sustain this coordination of emergency and humanitarian activities for efficient service delivery.
I also want to recognize and appreciate the various sector leads and co-leads for ensuring proper coordination of stakeholders' activities at the sector level.
Distinguished ladies and gentlemen, as we deliberate on salient issues bordering on affected people through the various sectors today, it is my desire that solutions will be proffered to ameliorate the suffering of the people.
Thank you and God bless.