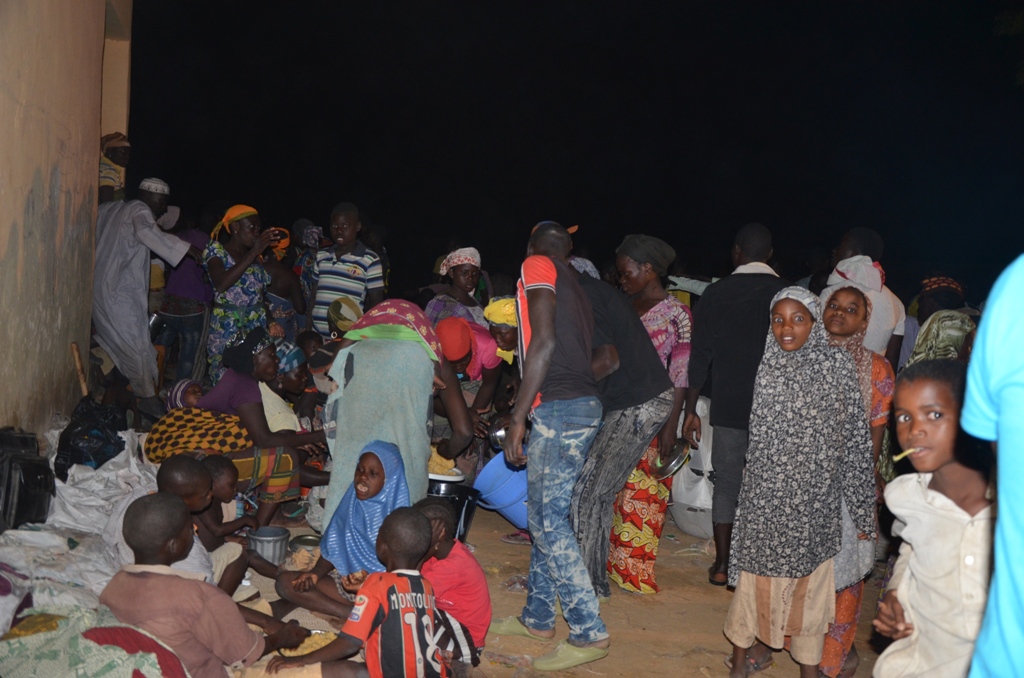 Alhaji Mohammed Sani Sidi is the director-general of National Emergency Management Agency (NEMA). In this interview with PEMBI DAVID-STEPHEN, he sets the record straight on the conditions and plight of the 275 rescued women by Nigerian troops from Sambisa forest, saying only 6 of the women are pregnant.
What has been the experience of NEMA in managing the rescued victims of insurgency?
I must say that the security agencies in Nigeria have done very well in the fight against insurgency. Just recently they recorded huge success by rescuing about 300 women and children from Sambisa Forest who were under the captivity of the deadly Boko Haram. When they were rescued we received a call from the military authority that they were going to handover the rescued women and children to the National Emergency Management Agency. Don't forget we have about fourteen camps at the beginning of last year in Adamawa State alone, but because of the successes recorded by the military in the fight against insurgency, most of the communities that were under the occupation of Boko Haram have been recovered and now peace have returned so the IDPs are beginning to move back to their various communities making it necessary for us as an agency to begin to reduce the camps. At the moment we have six camps which we call residential camps that are presently hosting about 27 thousand IDPs in Yola in particular and we have over 200 thousand living within the host communities.
We see the receipt of this rescued women and children as just an added responsibility to what we have been doing as an agency with IDPs. We consider them special because they have been under captivity for a long period of time. Obviously most of them are women and 70% are children below the age of five. Out of the 275, sixty three came unaccompanied and that is very worrisome, it is a terrible situation to have children under the age of five unaccompanied, meaning they have lost their parents and we cannot link them with their parent at the moment, six of them came with pregnancy and that is a sympathetic situation.
That contradicts the claims that most of the women came with pregnancy.
That is not correct, it is some people who don't have information. The speculation out there is that most of them came out with pregnancy. I must put it on record that only six of them came with pregnancy and we must add however that we must be very careful not to stigmatize this innocent Nigerians who were under captivity and came back with pregnancy so that we don't end up stigmatizing the child that is yet unborn. I think we must respect their rights and be careful by the way we talk about the issue and we should respect their rights.
From your investigation, who is responsible for these pregnancies?
I think we must really de-emphasise the issue of these pregnancies, what is important for us as an agency is the welfare and well being of these women and children, that is what we have been focusing on as an agency. When we received them you recall we received them in the middle of the night and our staff waited for them like for two days because of the logistic of transporting them from Sambisa forest to our camp in Yola. When they came they came very weak and sick. Out of the total of 275, about 158 came very sick, so we had to do an assessment, profile them and some that have serious ailments were transferred to the Federal Medical centre in Yola. Those that can be taking care in the camp within the coping capacity of doctors and nurses that we have were taken care of in the camp.
Can you tell us the nature of their ailments?
Most of them came especially the children with eye diseases, malaria, fatigue, they came looking very hungry, tired and traumatized. You can imagine people living under that kind of horrible conditions they are naturally traumatized. We had to immediately organize for trauma counseling and other requirements like feeding, clothing and even personal hygiene.
Have you been able to carry out any assessment of the true identity of these rescued women?
We have carried out assessment of the rescued women and children and before they were even delivered to us in our camps, the military have done profiling to ensure that they are not security risk and that they are innocent people captured by the insurgents and rescued by the military. What is left for us is to identify where they came from and that we have done and then we have assessed them medically and we shall continue to monitor them, especially the children. Some of them have also sustained various degrees of injuries, from gun shots, bomb blasts and they have been referred to Federal Medical Centre where they are receiving treatment.
What goes into this profiling done by the military and has NEMA been able to carry out its own independent assessment?
Our assessment is limited to their conditions, we are not security agency, they have done their job by profiling them and ensuring that they are not security risks, they could live in our camps like any other IDPs but they are special to us like I said earlier. They are different from the normal IDPs that are resident in our camps because these are people who were under captivity for a long time, they are traumatized so they need counseling, they need support so as to be rehabilitated back into the society.
How would you assess the humanitarian conditions of the rescued women and children?
Emphasis is now giving to the rescued 275 women and children, but before their arrival we have been managing IDPs. Like in Borno we have over ten camps, in Adamawa we have six residential camps and we have IDPs in host communities who are more in number. We have been managing these IDPs for the last five years and we have enjoyed tremendous support from the Borno, Adamawa, Yobe and Gombe state Governments, where we have camps in the North eastern part of the country. Humanitarian activity cannot really be done effectively by one agency, so there has to be collaboration and synergy between all the humanitarian actors. I must say that we have been receiving tremendous support from other actors. We have received training and support for our personnel from the UN system, the Nigerian Red Cross Society has been with us through out these trying periods, they have been in all our camps and all the other state emergency managements agencies and indeed NGOs and civil societies. It has been a close collaboration and I must say they have all done very well.
Is there any peculiar challenge in managing these special IDPs?
Indeed they are special IDPs, because like I have said they are people who need special attention. Most of them are children and our greatest concern are those sixty three children that came unaccompanied and we have to find the ways and means of unifying them with their parent or their families and that is a huge challenge. They can hardly speak, they are small kids just following the other groups looking lost and we are working side by side with all the other agencies working with us to identify their parents.
Has there been any effort to trace their roots?
Certainly, the first step is to establish information centre where people can come give information, where the IDPs too can pass information to the camp management on matters that affect their situation. What I am saying is it is going to take time. Just few days ago some people came and identify their children, they are not among the sixty three but we have other unaccompanied children in almost all the camps. Some time we are lucky we have people coming to identify such children as their parents and once it is established the authority process and hand them over to the parents.
So you are saying some parents have shown up?
Yes but not in the case of the 275 children and women.
What is the proof, because there could be desperation to get parent.
There are procedures of verification and ensuring that the children are handed over to parents in accordance with international best practice.
 How are those that came with ailments responding to treatment?
I must commend care givers in the camp because as at the time they arrived, most of them cannot even stand on their feet. Now they are gradually recovering, even the mothers were so malnourished that they could not even breast feed their children. It was terrible but now we noticed significant improvement and we have other agencies with specialty in nutrition that are assisting the nursing mothers and children to see that they recover quickly.
How good enough is this camp to helping the IDPs get back to their feet?
I must say that the environment which they live is to a larger extent conducive. All the facilities required to live decent life are provided. We have electricity, water supply, sufficient toilets, adequate sanitation and hygiene and most importantly we have enough food to feed the IDPs. Camp will always be a camp and cannot be compared to our normal residences and I am happy the IDPs themselves understand this and are coping with the situation they have found themselves. All the service providers and humanitarian actors are doing their best to provide counseling to the IDPs. We have not had any case where any IDP went to bed without food. The camps are being fumigated on a quarterly bases and we have enough mosquito nets to ensure that they are not infected by malaria as a result of the environment. To a large extent the camps are habitable and the IDPs are happy about it.
How long will this process of camping last?
There is no specific time frame, you live in the camp as long as possible because their communities must be secured before they return. The military will have to inform NEMA that a particular community is safe before the IDPs are prepared to be returned. We have started like when the military informed us that Mubi North and Mubi South in Adamawa state are safe and people can go back. So we went to the community to carry out an assessment along with other stakeholders to ensure that their communities are safe because you cant take somebody from safety to harm. Where they are now in camp is secured so we have to carry out independent assessment in line with international best practices to be sure that their communities are actually safe for them to return. Like seven local governments now in Adamawa state have been declared safe, so the process of return has begun and we are providing support to the IDPs to be able to return to their homes.