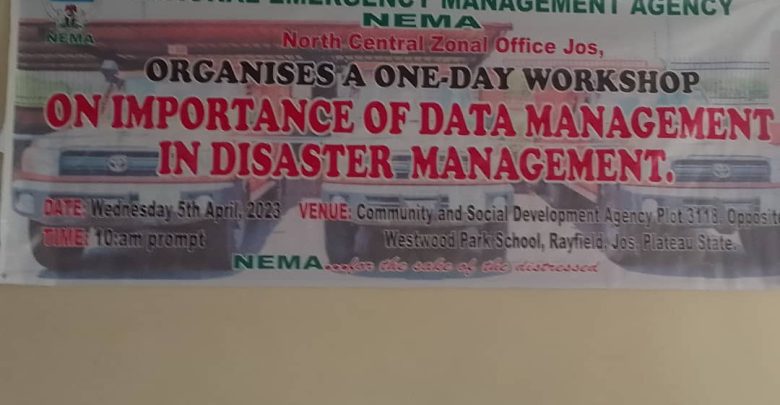 THE National Emergency Management Agency, NEMA, North Central Zone on 5th April 2023 trained its staff on effective disaster data collection, collation and management.
NEMA North Central Zonal Coordinator, Mr Eugene Nyelong said at the opening of the one-day workshop that the training reignited data collection and management spirit of NEMA staff.
Nyelong stated that it was meant to further build staff capacities on data generally.
The zonal coordinator pointed out that effective disaster data collection, collation and management is central to the success or otherwise of the NEMA interventions.
He stated that data management which is the process of organising and managing data improves productivity, efficiency, decision making and even disaster management.
"There are different methods of data collection, collation and management and we are exposing NEMA staff to all the methodologies.
"We are building our capacity alongside that of our sister agency, the State Emergency Management Agency (SEMA)," he stated.
According to him, after the training of staff, NEMA would go to various communities and sensitise community leaders and other stakehokders on the need to collect, collate and manage data in their communities.
It's Head of Planning, Mrs Medey Elukpo described data as facts about something that could be used in calculating, reasoning and planning.
Elukpo listed the benefits of data management to include increasing the impact of research.
He also said that data help in avoiding duplication of efforts, making it easier to share responsibilities.
According to her, a properly managed data could enhance accountability and transparency.
Mr Robert kelong from Plateau State Infrastructure, promotion and Regulations Agency at the workshop presented a paper titled "The Guide to Report writing and Administrative Procedure"
The workshop which took place today 5th April 2023 at Community and Social Development Agency hall rayfield, Jos was organised by the Zonal office for both the staff of the zone and those of the Plateau State Emergency Management Agency (PLASEMA)