The National Emergency Management Agency (NEMA) has continued to raised the bar on disaster preparedness and mitigation through continous human capacity development of staff and stakeholders.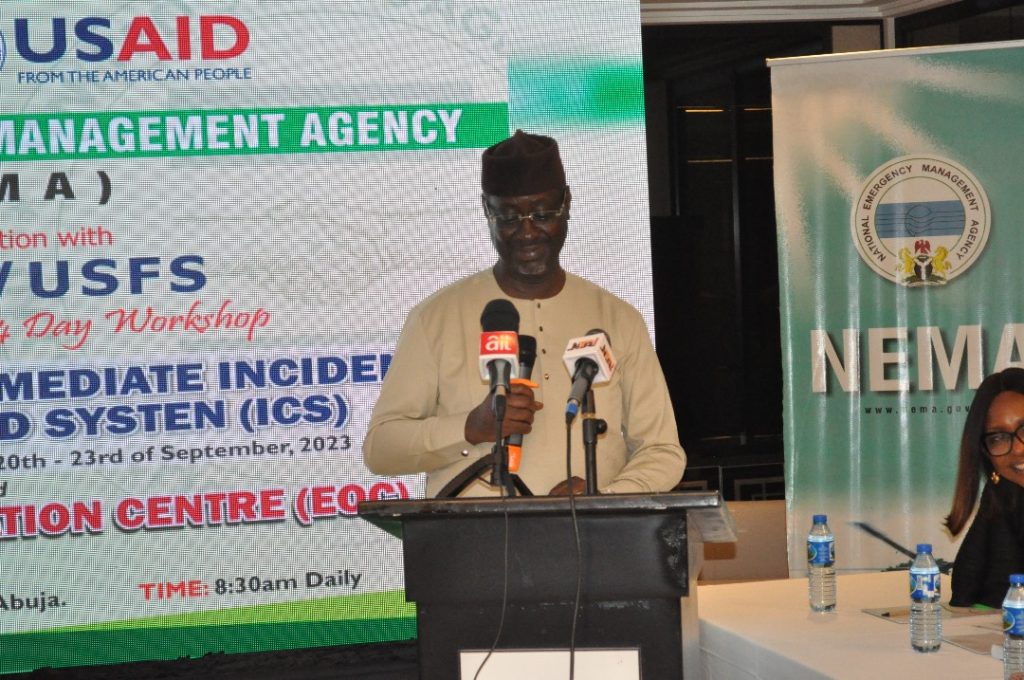 The concerted effort by NEMA is aimed at bolstering inter-agency collaboration and enhance the capacity of grassroots-level human resources. These endeavors aim to equip its personnel and stakeholders with the essential skills and knowledge required for effective disaster management. The training programs were conducted in collaboration with international partners, such as the United Nations Office for Coordination of Humanitarian Affairs (UN-OCHA) and the United States Forest Service, facilitated by USAID, and took place in Abuja.
The collaboration with UN-OCHA resulted in the training of 125 individuals divided into two cohorts. The focus areas encompassed various critical aspects of disaster management, including Humanitarian Coordination Mechanism, Disaster Management Cycle, Institutional Capacity, Resource Mobilization, Information Management, Community-Based Disaster Management, Search and Rescue, Incident Command System, Disaster Preparedness, Risk Management, and Early Warning Systems.
Concurrently, the collaboration with USAID consisted of two separate batches focused on the Incident Command System (ICS) and the Emergency Coordination Centre/Multi-Agency Coordination (EOC/MAC). These sessions featured facilitators from the United States Forest Service, bringing a wealth of expertise to the training.
Mustapha Habib Ahmed, the Director General of NEMA, emphasized the imperative nature of capacity-building programs. He stressed the importance of continuously enhancing the knowledge and skills of disaster managers to ensure sustainable and efficient disaster management in Nigeria. Ahmed stated that "training of personnel is a critical component for effective and efficient disaster management" and affirmed NEMA's commitment to exploring avenues for ongoing capacity development among its staff and stakeholders.
Highlighting NEMA's recent training efforts, Ahmed mentioned previous collaborations with the United States Forest Service in January 2023 and Bournemouth University Disaster Management Center in February 2023. These training programs included participants from NEMA staff, State Emergency Management Agencies (SEMAs), and other stakeholders. Ahmed also hinted at upcoming capacity development programs in the near future.
Furthermore, Ahmed elaborated on the significance of training SEMA staff, aiming to strengthen the working relationship between federal and state emergency management agencies. This collaboration seeks to facilitate coordinated disaster management efforts, aligning with NEMA's mandates, while simultaneously bolstering the capacities of SEMAs to effectively manage disasters at the state and local government levels.
The Director General expressed his deep appreciation for the collaboration with UNOCHA, USAID, and USFS, as well as the support from various other international development partners. These collaborations have been instrumental in the success of NEMA's capacity development initiatives.
Ahmed encouraged all beneficiaries of the training to leverage the knowledge and skills acquired to enhance the services provided by their respective agencies and locations. Participants in the training included staff from SEMAs, officers of Fire Services, the Federal Road Safety Corps, the Nigerian Red Cross Society, and others.
In conclusion, NEMA's commitment to enhancing disaster management capabilities through training and collaboration with international partners demonstrates a proactive approach to safeguarding lives and property in Nigeria. The agency's dedication to continuous improvement and capacity development is a testament to its mission of effectively responding to and managing disasters at all levels. As NEMA continues to strengthen its partnerships and invest in its personnel, the nation is better prepared to face and mitigate the challenges posed by disasters, ensuring a safer and more resilient future for all.
Manzo Ezekiel and Abdulkadir Ibrahim
wrote in from NEMA Headquarters press unit