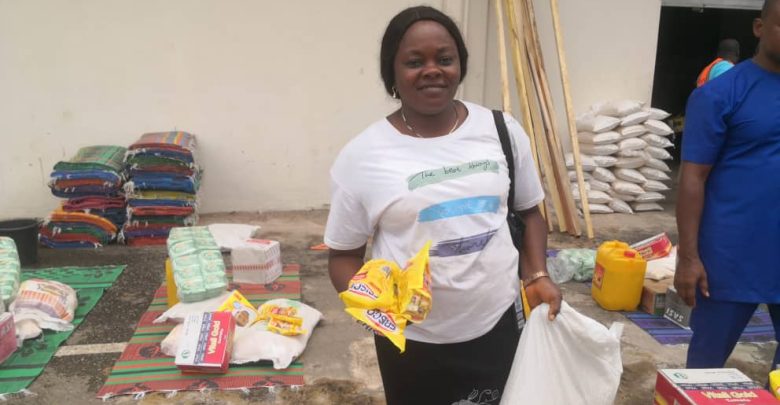 In continuation of the Federal Government efforts to assist persons/Communities affected by 2022 flood disaster, the NEMA South East Zonal Office team led by the Nwamaka-Chidi Aroh were at SEMA Warehouse Enugu for a flag-off/direct distribution of relief materials.
In the address she delivered on behalf of the Acting Zonal Coordinator Ngozi Echeazu, she stated that the issuance of relief items to Enugu State was based on the assessment conducted by the zone where there were reported cases of flood disasters in some LGAs of the state. The items were in line with the Agency mandate to ensure that all affected communities were provided with necessary short, medium and long term support to enable them recover from the disaster. The relief intervention by the Federal Government through NEMA is not a compensation, but rather a fulfilment of the Federal Governments responsibility to support the welfare and wellbeing of Nigerian citizens wherever they live especially when the capacity of their state and local government authorities are exceeded. The relief items provided which include food items, non food items, building materials and livelihood materials were expected to help the affected stand on their feet and return to normal life.
The Secretary to the State Government, Prof Chidiebere Onyia who represented the Enugu State Governor Barr. Peter Mba in his remarks, extolled the benevolence of the Federal Government and the DG NEMA, Mustapha Ahmed Habib, and further stated that the items would go a long way in cushioning the effect of their huge losses.
Others that spoke at the event include the Representative of the Executive Secretary SEMA Enugu Chinasa Mbah and the ALGON Chairman Sydney Edeh. Both expressed their gratitude to the federal government/NEMA for the relief Intervention.
Major Highlights of the occasion were the inspection of the relief materials and the direct distribution of the items to the affected persons/Communities.
14/08/2023