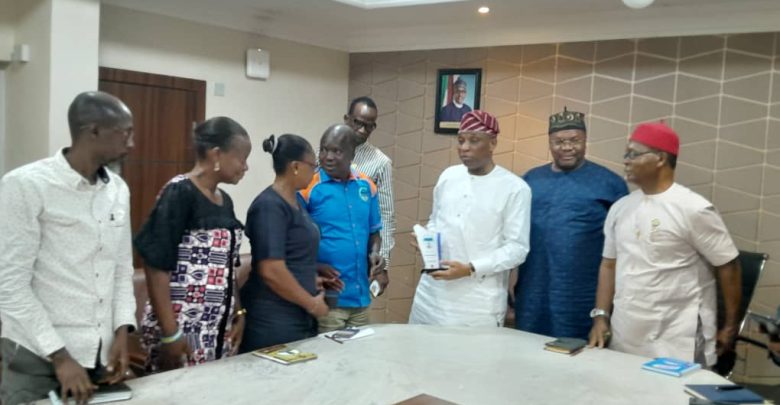 NEMA Lagos Territorial Office was on a working visit to the Honourable Commissioner for the Environment and Water Resources to intimate him on the assessment reports on the hotpots of tlast year flood devastated areas and the new areas that residents send SOS to the NEMA before the full blast of the rainfall.
The Honourable Commissioner, Alhaji Tunji Bello flanked by the Special Assistant to the Governor on Environment, Chief Joe Igbokwe, the Permanent Secretaries of the Environment and Eater Resources, Director of water Control, Director of Drainage Services, Director Drainage maintenance and Director Solid Waste were in attendance.
The Agency presented of gaps observed in Isale Aboru, Oke Ishagun, Orisumbare, Shasha, Command in Alimosho Local Government Area, Badia in Apapa Local Government Area, Itowolo and Ajegunle in Ikorodu Local Government Area, Kushenda in Lekki of Eti-Osa Local Government Area, Isheri in Kosofe LGA, Orile Agege, Papa Ashafa and others. .
The Agency highlighted some of the discoveries and explained the reasons why it was necessary to convey the information directly to the Honourable Commissioner as to forge a way forward.
Amongst the presentations was the case of Isale Aburo and Oke Ishagun where lives were lost including 3 siblings was alleged to be uncompletion of dredging and upgrading/ construction of bridge to meet the current situation in relation to extreme weather.
The Honourable Commissioner responded that the situation at Kushwnda and Itowolo are communuties that have failed to abide with the options of relocation to upper ground as they are already living under sea.
The Commissioner implore the Agency to intervene with facilitation of meeting between the State Government and the Federal Airport Authority of Nigeria (FAAN) due to inability of the State to reach the Authority to resolve issues between the surrounding communities and FAAN.
The Agency promised to broker a meeting with the intervention of NEMA Headquarters and the CEO FAAN.
Some lives have been lost in the communities as a result of constructions of perimeter fence by FAAN leaving small outlets for flow of runoff water from the communities, due to encumbrances encountered by the water upon approaching the FAAN perimeter fence which turns back to the communities ato cause Ecological problems.
Full reports and progress towards the mitigation of the effects of 2023 floods by the two agencies will be forwarded appropriately.
The Commissioner who was surprised that some of the communities approached NEMA thanked the agencies for her services in the State.
At the end, the Director General plague and a Special personal souvenir were presented to the Honourable which he greatly appreciated.