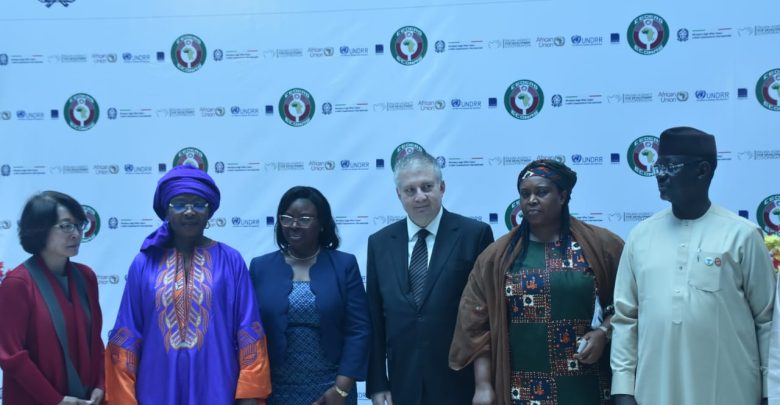 Director General National Emergency Management Agency (NEMA) Mustapha Habib Ahmed today 15th June 2023 join other dignitaries at the inauguration of ECOWAS Disaster Operation Centre in Abuja.
ECOWAS Commissioner for Human Development and Affairs Professor Fatou Sow Sarr led the dignitaries to inaugurate the Centre on behalf of President of ECOWAS Commission. She said the Centre was established to compliment and support national efforts of ECOWAS member States in management of disasters, especially situations that are climate induced in the West Africa sub-region.
In his remarks, Director General NEMA Mustapha Habib Ahmed commended ECOWAS for establishing the Centre and noted that it will strengthen regional coordination for improved forecasting and exchange of data and information for effective and efficient disaster risk management among member states in the West African Sub-region.
He appreciated the supports of Italian Government, UNDRR, Italian Civil Protection and CIMA Foundation towards the realizations of the Centre.
He said "the West African sub-region like any other Sub-Saharan Economic Groups is faced with different hazards scenarios that have posed serious threat to the human population, the environment, infrastructure, and means of livelihood based on the hazards manifestation into disasters that are trans-boundary in nature.
"The establishment of the Centre in the region is quite commendable considering the location of West African sub-region in the Sahel Zone with its associated disturbing physical and human development indices.
"Most of this area are characterized by fragile ecosystem and economy that are exacerbated by extreme weather conditions and climate change phenomenon, poverty, insecurity, political unrest, terrorism and banditry.
"These have undermined community resilience to shocks and stress with varying degree on demographic structure of the zone consisting of women, children, the elderly, people living with disabilities and other vulnerable groups.
"Based on the graphic picture painted above, management of disaster risks cannot be actualized without efficient coordination. mechanism, effective early warning systems for anticipatory early actions, full deployment of both quantitative and qualitative data that are strengthened by data exchange for disaster risk-informed decision, progamme implementation, resilient investment and sustainable development in the West African Sub-Region."
Dignitaries at the event included a representative of the Federal Ministry of Foreign Affairs, Special Representative of the United Nations Secretary General on Disaster Risk Reduction Her Excellency Mami Mizutori, Italian Ambassador to Nigeria His Excellency Stefano De-Leo and Director General NiMet Prof Mansur Bako Matazu.
The Director General NEMA attended the occasion with Director Disaster Risk Reduction Mr Daniel Obot and SADG Mr Idris Abubakar Mohammed.
15th June 2023