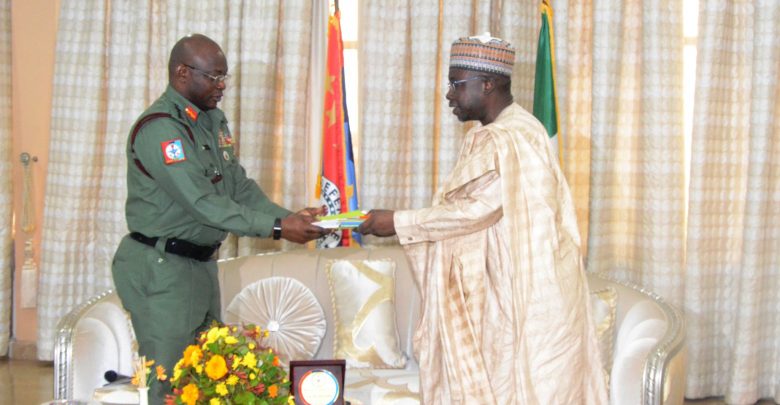 In consolidation of existing working relationship, Director General National Emergency Management Agency Engr Mustapha Y. Maihaja today visited the the Defense Headquarters of the Nigerian Armed Forces in a move to enhance collaboration between the military and the agency towards sustain improvement in the management of emergencies in the country.
The Director General of NEMA and his delegation were received by the Chief of Defense Staff General Abayomi Olonisakin in company of some principal staff officers of the Defense Headquarters in Abuja.
Maihaja said the visit was in furtherance to reassure the Defense headquarters of NEMA's recognition of its active role as a major stakeholder in disaster management in Nigeria. He said this was also evidence in the creation of 70 Disasters Response Units (DRUs) in Army, Navy and Air force formations located throughout the country for prompt response to emergency situations.
He appreciated the collaboration of the Nigerian military towards the success of the on-going special food distribution in the northeast, noting that NEMA has continued to benefit from the partnership of the military in the discharge of its mandates.
The DG NEMA said though Nigeria was lucky not to have had any devastating catastrophic disaster, the availability of the military to collaborate in emergency response was an assurance of hope if any of such should happen in Nigeria.
Responding, the Chief of Defense Staff General Abayomi Olonisakin assured that the Nigerian military would continue collaborate with NEMA towards efficient and effective disaster management.
He advised NEMA to work closely with the DRUs and engage in regular joint trainings and simulation exercises for closer relationship.
The DG NEMA was accompanied on the visit by the Director Search and Rescue Air Commodore Akugbe Iyamu, Ag. Director Planning Research and Forecasting Mr Vincent Owan and the Deputy Director Search and Rescue Dr Onimode Bandele Abdullahi.
[fb_embed_post href="https://www.facebook.com/nemanigeria/posts/1994762497222116/" width="750″/]