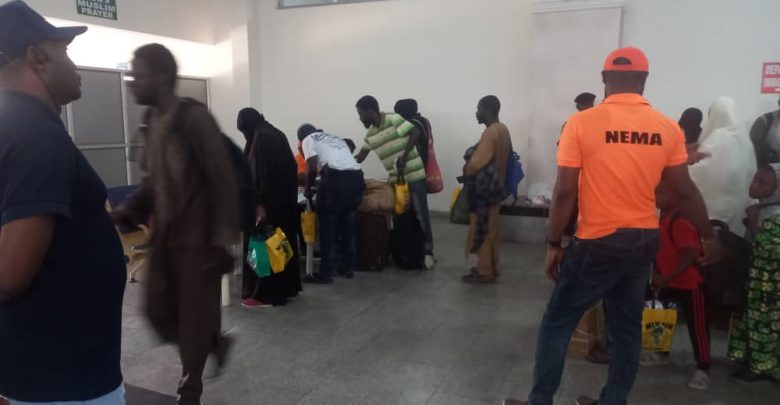 A total of 126 stranded Nigerians evacuated from internal conflict in Sudan arrived Nnamdi Arzikiwe International Airport Abuja today at 8:30am.
The Federal Government through National Emergency Management Agency (NEMA) airlifted the returnees in continuation of the evacuation.
A Sudan based airline, Tarco Aviation conveyed the returnees to Abuja. They were received on behalf of the Federal Government by a team of senior officials led by Director Special Duties NEMA Dr Onimode Abdullahi Bandele who represented the Director General NEMA Mustapha Habib Ahmed. Others were representatives of the Federal Ministry of Humanitarian Affairs, Disaster Management and Social Development, Ministry of Foreign Affairs, Nigeria in Diaspora Commission (NiDCOM), NAPTIP, NCFRMI and other relevant organisations.
Addressing the returnees on behalf of the Director General NEMA Mustapha Habib Ahmed, the Director Special Duties Dr Onimode said the Federal Government was concerned about their situation in approving for the immediate evacuation in safety and dignity.
After clearance by the Nigerian Immigration Service, the returnees were served meals and provided with token and dignity kits.
The returnees were airlifted from Port Sudan. Among the returnees were 41 minors and 11 children. On arrival, one of the returnees was found to be sick. The sick returnee was provided with necessary medical supports.
9th May 2023.